Established: 1970
(

Yes that's 50yrs now

)
    For 16mm Film to DVD please contact us direct.
(Home Movies to DVD or Portable USB Hard Drive)
  We do not re-film off the wall using an old Projector & camera.
  We do not use mirrors and an old camera or any other outdated
  method.
  We do not use old projectors that have been converted to act as
  stop motion Frame by Frame scanners.
  We use only the latest professional TVT Cine Film real time frame
  by frame Scanners built for us by Tobin Cinema Systems in the USA
  who have been manufacturing these and others for over 40 years
  and now using the very latest in technology to transfer your precious
  8mm or 16mm Cine film to a Hi resolution digital format with or
  without sound tracks.

-------------------------------------------------------------------------------------------------------------
1.* Professional film transfers
                         Using our professional Tobin TVT machines.
Affordable Pricing of silent Film to DVD or Computer files.
* Film with sound track add an extra $5.00 per reel for recording
  * We have a professionally built Telecine that will transfer your
     Super 8 or 16mm film --  

with sound in perfect sync.
  * We do not need to make up

separate

files and add them to
     your film then try and sync them properly later. 

* Also all our film transfers are added to our professional editor
     and scrubbed
through to remove any obvious blank spots or
     bad frames that are not viewable.
  * An interactive menu is set up with links to each chapter if feasible.
  * This is a service that I do not see any other film transfer studios
     doing this included in the transfer cost.
    Any further editing you want done can be done with you in
    our studio at an extra cost.
  * We have many years experience in film editing *
Pay only for the footage transferred

and not full price for
     reels that are only part full.
* Price for processing 8mm film to DVD or USB =
      0 - 800ft    = 0.43cents per ft.
     Over 800ft  = 0.35cents per ft.
Minimum charge per project = $50.00
     7" Reels  (400ft)

**
All of our machines have electronic 
footage counters.
  Professional Cleaning of the film is included.
   Broken splices= $4.00 ea (includes labour)

   Leaders and/or Leader repairs = $5.00 ea. (Includes Labour)

   New Imported 400ft Plastic Reels = $25.00 ea
   Supplied in a Full DVD case with Printed insert and
   title printed direct to disc.

   Freight & Packaging not included. 
   For further information on pricing of all reel sizes or
   Editing please contact us direct.
   If you have a number of 3" reels it would be more
   efficient to splice all of your small reels together
   onto larger reels.

   This is more effective, will produce better files if
   you want to edit your own film. 
   Yes we can splice the small reels onto the larger
   reels for you please ask).
   (Yes we have larger reels in stock)
*

All of our transfers and editing are done in-House we do
   not send away to the South  Island, Australia or Asia.
Using our "Professional" film scanners
we transfer old
  home movies,16mm, 8mm Regular and Super 8mm, to DVD
  media or USB Drive, the process used does not harm the film
  or reels they will all be returned to you in the same or better
* Under normal conditions we strive for a turnaround of 7 - 10
   Urgent jobs (under 7 working days) may attract a surcharge
   of 20%.

* Extra copies if required include - disk printed in a slim jewel
   ( If required we can supply the disc in a full DVD case with
      printed insert - talk to us. )
* Note - The above prices for all transfers are to be taken as a
   guide only and do not in any way constitute a quotation - we
   will confirm the above prices after we view the film as some
   film today is suffering with old age.
   If you require a price estimate you  will need to bring
   or send your film to us to calculate the footage etc.
   Please contact us for pricing or phone :07 576-4158 Tauranga.      

"We Save Precious Memories"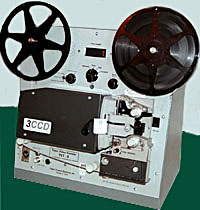 Professional Super 8 Film Scanner with Sound.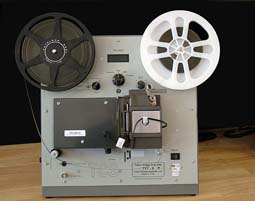 Professional Std 8mm Film Scanner (Silent)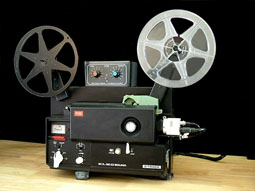 For Super 8mm Sound Film with up to two Sound tracks. The Pro Sound capture on this machine is superb. * This is not a projector.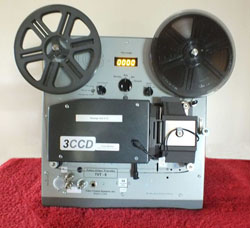 Professional Tobin 3CCD STD 8 Film Scanner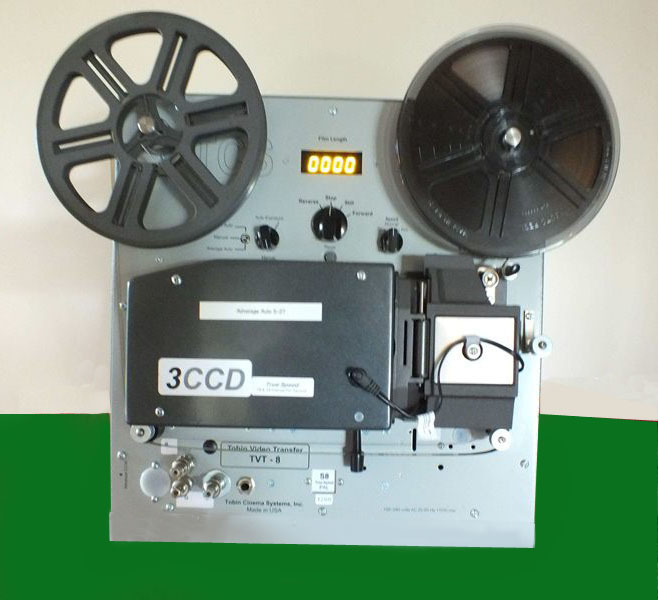 TOBIN 3CCD Professional Super 8 Film Scanner